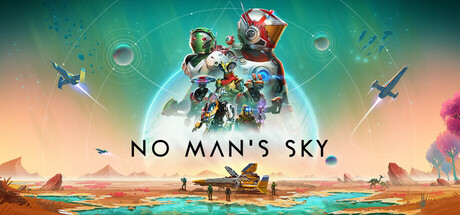 So, No Man's Sky. A massive game, hyped up a lot by Sony, with 18 quintillion planets to explore. A number so big, Google spellcheck doesn't recognize it. The game was made by 15 people, and, quite frankly, it kinda shows.
18 quintillion planets were made by procedurally generating them; everything about the planets is determined by math equations that make the planet as you observe it. In No Man's sky, everything from the color of the sky, to the ground, and animals, is made up by math equations.
Now this would be incredible... if there was some actual gameplay to go with it.
Here's the gist: you are a space explorer, trying to reach the center of the galaxy. Your current ship isn't capable of making it there, so you have to get a better one. to do that, you gather valuable objects and minerals like gold. You sell those to get a bigger ship that can hold more materials. You also use materials to make better tools to get more materials.
In essence, it is Minecraft, the game all under-10 children and lazy Youtube Lets Players play. Dig materials, build better tools to dig more stuff, so you can go find the end game. Similar cycle to No Man's Sky.
However, No Man's Sky has nothing BUT that one cycle. fly to a system, go to a planet, load up on valuable materials, sell them, get a better ship, keep flying until you get to the center of the universe... and that's it.
You can also discover unique plants and animals, and name them and the planets, and when other players find them they'll see the names. That's neat, but the fun of that dies rather quickly.
This is the biggest problem of No Man's Sky: if you don't like the cycle, there is nothing to do.
But I'm not here to beat up the game; if anything I REALLY want the game to fix its problems and become amazing. I do have a bit of an idea how it could be improved though; and it has to do with adding more depth to the cycle.
Lets look at minecraft again; the main gameplay is survival. Get the tools you need to survive, and later thrive in a harsh world. However, if you are not interested in digging, there are other things to do. You can build a farm, build a house... Those were available from very near the start of Minecraft's life. When it was fully released, you could also build intricate mechanics, stories for others to play through, even make calculators. Also... this:
Erebor, the Lonely Mountain
People in Minecraft have painstakingly worked to recreate entire worlds of fantasy.
So, while Minecraft is, as its title suggests, about mining and crafting, its primary cycle is not the only thing one can do in it.
No Man's Sky needs something else to do besides its cycle. Otpimally, I think of it like this: there are 18 quintillion planets yes, but what if there was enough for them to do on the planet that they may decide to just stay there for a long time?
Like, there are thousands of diverse creatures made in the game... What if we could domesticate some of them? Obviously it'd take a long time to do such a thing, and there are a lot of tools one would need to be successful at domesticating them.
Like, for instance, a place to keep the animals penned in. Obviously one cannot allow them to get away, or else they may wreck the process. to do that, the game needs a way to build. Build structures of different shapes, sizes, and purposes.
I can think of two games that'd be ideal to follow for this sort of thing: Fallout 4, and Space/Medieval Engineers.
Fallout 4 has, as a main draw, the ability to make settlements for people to live in. The system is relatively simple, you go into an over head view mode, and can place down all sorts of walls, stairs, ceilings, floors... in addition to some fun stuff like turrets and electronics. These settlements require resources to build, which you collect in your travels.
Space and Medieval Engineers focus entirely around building structures, tools, and weapons. In survival mode of these games, which certain materials you can set up a 3D blue print of a structure, and then start adding materials as you collect them. Good for planning, and an incredibly diverse system, probably more so than Fallout.
For No Man's Sky, I can imagine a similar system. Basically, after collecting specific, and somewhat rare materials, you can build a construction drone. With the drone, you plot out structures with holographic blueprints. You can also set things like the interior atmosphere, temperature, et cetera. Then, with the blueprint completed, you have a list of materials you'll need to build the structure. Gather the materials and return to it to build what you've planned.
This alone would add a lot of depth to the gameplay cycle, especially for those who would spend hours on this aspect alone.
This same tech for the construction drone could be sued to build unique starships. Obviously it'd require rare materials, but it's a better option than having the only way to get new ships being buying them off someone else. These starships could have unique settings like the grounded structures, so that you could transport living cargo, like plants and animals. Also you could walk around your ship while it is in flight.
Just imagine this: instead of mining for gold forever, you make your money domesticating some cute creatures. You make them friendly towards people, you evolve them to survive in different atmospheres, and then you breed them as pets, selling them on the intergalactic market. Hell, imagine another player finding your domesticated pet and buying one!
Could train larger creatures as mounts, hunting companions, or cattle. Or make a farm and sell products off of them, like meat, their version of milk, eggs, or fertilizer...
You could become an alien farmer!
It may sound like Blue Skying, but a lot of these features exist in some capacity already in the game. Creatures have temperaments and diets, it isn't that much of a leap to say one could feasibly work to change those features through various means.
That is but one way to add depth to the cycle. There are countless others as well.
Like, for instance, the Sentinels of The Atlas. Basically, The Atlas is supposed to be the organization that prevents you from doing what I suggested above, and also opposes practically all actions players take. They have these sentinel drones on planets, making sure no one is messing around with the ecology of a planet. The problem however, is that they are just a nuisance. They aren't threatening, they are just annoying. If you somehow manage to die to them, you merely have to run back to where you died to collect your stuff.
The interaction with these guys should no be so banal. You should be able to lay claim to a planet, and say that it is now YOUR house, and you will command its ecology. You should then have to fight hard to get this, until The Atlas concede and let you have one of the Quintillion planets, or work out a peace treaty where you get a couple acres or something to work with.
Now, I realize that some of these suggestions go against what the team thought the "core" of the game was. They wanted space exploration to be the main pull. But, there is nothing to actually explore. Every planet is nearly the same. It may or may not have a planetary hazard that has the same effect on you regardless of what it is, and the planet is a spectrum of colors. Sometimes you'll get a planet with a green sky and orange plants, or you'll get a orange sky with blue plants... you won't find anything actually worth finding currently.
When your believed core doesn't work, then spread out, and try other aspects, or, realize a problem with the core: you want them to go out and explore, but don't want them to stay somewhere too long, so there is nothing to explore, to force them to go out and explore.
For the core to work, it actually requires a paradox: you have to make the planets themselves so great, they may not want to ever leave it. This, oddly enough, will also push them to find more planets, because maybe it'll be even greater than the last.
It should be where, when they find their ideal planet, they could settle down on it. Ultimately this is also necessary since the game designers also want the game to be playable after the player reaches the core... Currently, there is no reason to continue after, or to even continue to the core.
If each planet had a wealth of possibilities upon it, where the player could construct a mining operation, or a space port, or a city, or a farm, then there would be something to do after you've gone to the core and seen it all. Hell, people might actually want to go to the core, thinking it may give them something incredible.
Like, consider Maxis's Spore. It got bad reviews, much like No Man's Sky has now. This was also due to poor gameplay. However, its space phase had a lot of options for the player to have fun with. One option was to go to the galactic core... which gave you a genesis rod, perfectly terraforming a planet when used. If something like that was at the center of the No Man's Sky galaxy, then it'd be truly worth it to reach the center, because it could open up a whole new game once accomplished.
No Man's Sky has a wealth of potential. Right now, it is more tools to make content than actual content. But I can very easily see the game becoming an amazing space game.